Ranking
LSF ranking

Classes:
M1

Closing date
05/12/2019 22:00
Start date
07/12/2019 10:00
End date
07/12/2019 15:30
20 players
Pepsi boulinga centrs
Uzvaras bulvāris 10, Zemgales priekšpilsēta, Rīga, LV-1048, Latvia
Entry fee
€15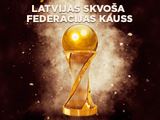 To make Live video from the tournament with score boards to YouTube, you must use "SportCam by Rankedin" app. Install app from the Play Store (Android) or App Store (iOS). "SportCam by Rankedin" app have a two options: Stream Single Match or Court View. Court View streaming will create one broadcast in which the scoreboard will automatically switch between the next matches planned for the given court. 24 hours before the broadcast, you must activate the Live Streaming option in your YouTube account.
How To use SportCam by Rankedin App
How To Activate YouTube Live Streaming
* Dalībnieks ir atbildīgs par savu veselības stāvokli turnīra laikā.
** Informējam, ka pasākuma laikā tiks veikta fotografēšana. Uzņemtie foto var tik publicēti Sociālajos tīklos organizētāja un pasākuma popularizēšanas nolūkos, kā arī var tikt uzglabāti un izmantoti organizētāja vajadzībām.