Madrid, Spain September 06 - 08 2019
Ranking
RFES Squash 57 vets

Classes:
+35
+45
+50
+60

Closing date
28/08/2019 23:55:00
Start date
06/09/2019 10:00:00
End date
08/09/2019 15:00:00
26 players
Yoofit Boutique Gym Experience
Estación de Chamartín, 28036 Madrid, España, Spain
Entry fee
FREE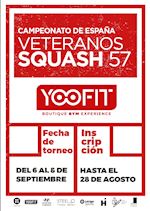 To make Live video from the tournament with score boards to YouTube, you must use "SportCam by Rankedin" app. Install app from the Play Store (Android) or App Store (iOS). "SportCam by Rankedin" app have a two options: Stream Single Match or Court View. Court View streaming will create one broadcast in which the scoreboard will automatically switch between the next matches planned for the given court. 24 hours before the broadcast, you must activate the Live Streaming option in your YouTube account.
How To use SportCam by Rankedin App
How To Activate YouTube Live Streaming
CAMPEONATO DE ESPAÑA DE VETERANOS DE  SQUASH 57 2019
6, 7 Y 8 SEPTIEMBRE de 2019
Organiza YOOFIT Boutique Gym - Madrid
NORMATIVA DE COMPETICION
1. La prueba se celebrará los días 6, 7 y 8 de septiembre de 2019, en las instalaciones del:
Club Yoofit, situado en la Estación de Chamartín de Madrid,
2. El campeonato se regirá por la normativa de competición y el reglamento de juego de la RFES y de la WSF, en ambas modalidades tanto masculina como femenina.
3. Se podrán inscribir todos los jugadores que estén en posesión de la licencia Nacional en vigor del año 2019. Todos los jugadores deben estar amparados por el seguro obligatorio correspondiente (Art.59.2 de la ley del deporte)
4. El Juez-Árbitro del Campeonato será D. Pablo del Rio.
5. Las inscripciones se realizarán exclusivamente a través de rankedin.com. en el siguiente link:
https://rankedin.com/en/tournament/849/campeonato-de-espana-de-veteranos-de-squash-57
Hasta el Miércoles 28 de Agosto a las 23,59h.
6. El precio de la inscripción es de 18 €, y se abonará antes del comienzo del torneo. Todo jugador/a que no tenga el pago hecho no podrá participar y se le excluirá del Campeonato.
7. Las inscripciones se actualizan on‐line y se pueden consultar en la página del Campeonato.
El martes día 3 de Septiembre a las 11h se publicaran los cuadros provisionales, para posibles reclamaciones.
El miércoles 4 de Septiembre, se publicarán los cuadros definitivos con los horarios correspondientes.
8. La Bola Oficial del Torneo será la Price Bath un punto amarillo.
9. Los partidos se jugarán al mejor de 3 juegos a 11 puntos. Se disputarán consolaciones de cuadro principal y consolación de previas.
10. El jugador que pierda su partido tendrá la obligación de arbitrar el partido siguiente en su pista, excepto los partidos que sean a criterio del Juez Árbitro.
11. Se aplicará riguroso W.O. una vez transcurridos 15 minutos de la hora fijada para el comienzo del partido.
12. La entrega de trofeos se realizará una vez terminado el campeonato, los jugadores que tengan que recoger trofeo deberán estar en dicha entrega.
13. A todos los participantes se les hará entrega de una camiseta conmemorativa del campeonato.
14. Habrá trofeos para los tres primeros/as del torneo y para los campeones/as y sub-campeones/as de consolación tanto de previas como del cuadro principal. Será obligatorio la disputa de los 3er y 4º puesto del cuadro principal.