TORNEO DE VERANO YOOFIT 2019
video
Madrid, Spain July 01 - 11 2019
Ranking
Yoofit Boutique Squash

Classes:
Squash general
Racket general

Closing date
25/06/2019 23:55:00
Start date
01/07/2019 00:00:00
End date
11/07/2019 23:30:00
43 players
Yoofit Boutique Gym Experience
Estación de Chamartín, 28036 Madrid, España, Spain
Entry fee
FREE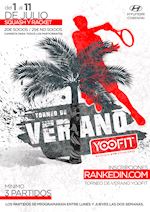 To make Live video from the tournament with score boards to YouTube, you must use "SportCam by Rankedin" app. Install app from the Play Store (Android) or App Store (iOS). "SportCam by Rankedin" app have a two options: Stream Single Match or Court View. Court View streaming will create one broadcast in which the scoreboard will automatically switch between the next matches planned for the given court. 24 hours before the broadcast, you must activate the Live Streaming option in your YouTube account.
How To use SportCam by Rankedin App
How To Activate YouTube Live Streaming
- Mínimo 3 partidos.
- Preferentemente por las tardes entre 18 y 21 (squash) y mediodías entre las 14 y 16 (racketball).
- Los partidos se programarán entre Lunes y Jueves las dos semanas.
- 20 € socios, 25 € no socios.
- Camiseta para todos los participantes y regalos para los 10 primeros y Campeones de Consolación.