Ranking
Norges Squashforbund Ranking

Classes:
Herrer
Damer

Closing date
22/05/2019 20:00:00
Start date
24/05/2019 18:00:00
End date
25/05/2019 19:00:00
33 players
Bergen Squashsenter
Sandslihaugen 10, 5254 Sandsli, Norge, Bergen, Norway
Entry fee
300 NOK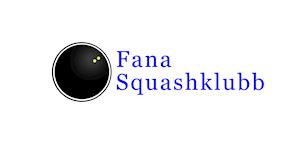 To make Live video from the tournament with score boards to YouTube, you must use "SportCam by Rankedin" app. Install app from the Play Store (Android) or App Store (iOS). "SportCam by Rankedin" app have a two options: Stream Single Match or Court View. Court View streaming will create one broadcast in which the scoreboard will automatically switch between the next matches planned for the given court. 24 hours before the broadcast, you must activate the Live Streaming option in your YouTube account.
How To use SportCam by Rankedin App
How To Activate YouTube Live Streaming
Velkommen til Fana Squashklubbs avslutning på en flott squashsesong - Fana Challenge!
Vi kan tilby god atmosfære, fine fasiliteter, lett lunsj på lørdag og sosialt samvær lørdag kveld.

Turneringsleder: Dung Tran
Overdommer: Trude Bjånesøy


Klubbfest/bankett: Mer info kommer snart

Turneringen spilles iht Norges Squashforbunds turneringsbestemmelser. Begge spillerne er ansvarlige for å dømme neste kamp.
Fra fylte 13 år må alle spillere løse lisens for å delta i turneringen. Se 
www.squash.no/?page_id=82
. Dette gjøres ved påmelding i Rankedin.
Klasser:
Herrer 32
Damer 16
Deltakerpris: kr. 300,- med Vipps til nr. 44999/kontant FØR første kamp!
Premier: Utstyr til herre og dame klassen. Ved få påmeldte kan gruppene endres/slås sammen, og kampene kan settes opp kun på lørdag.
Kontaktpersoner:
Dung Tran tlf: 922 29 922/ e-post: jummen@gmail.com
Trude Bjånesøy e-post: trudebjaanesoey@gmail.com 
Alle arrangementer i regi av NSqF er underlagt NIFs regelverk, herunder straffe- og dopingbestemmelsene, og sanksjoner etter NIFs regelverk kan ilegges dersom deltaker bryter regelverket. Norges Squashforbund har nulltoleranse for doping. Vårt arbeid mot doping er forankret i grunnverdiene, som er glede, fellesskap, ærlighet og helse. Flere og bedre i et rent miljø.
Vel møtt!