Cuenca, Spain February 07 - 10 2019
Ranking
FEDERACIÓN ESPAÑOLA DE SQUASH

Classes:
Masculino
Femenino
pre-pre-previas Cuadro Masculino

Closing date
24/01/2019 23:59
Start date
07/02/2019 13:00
End date
10/02/2019 15:00
111 players
Polideportivo Municipal San Fernando
Avda. del Mediterráneo s/n 16004 , Cuenca, Spain
Entry fee
€30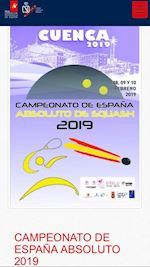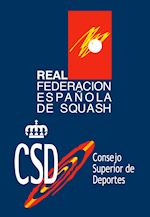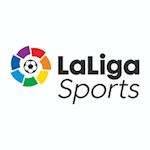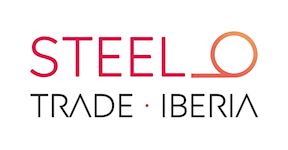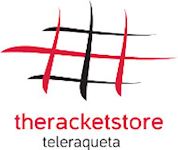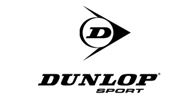 To make Live video from the tournament with score boards to YouTube, you must use "SportCam by Rankedin" app. Install app from the Play Store (Android) or App Store (iOS). "SportCam by Rankedin" app have a two options: Stream Single Match or Court View. Court View streaming will create one broadcast in which the scoreboard will automatically switch between the next matches planned for the given court. 24 hours before the broadcast, you must activate the Live Streaming option in your YouTube account.
How To use SportCam by Rankedin App
How To Activate YouTube Live Streaming
1. La prueba se celebrará los días 8, 9 y 10 de febrero de 2019, en las instalaciones del:
 Polideportivo Municipal San Fernando
Avda. del Mediterráneo s/n
16004 Cuenca.
 2. El campeonato se regirá por la normativa de competición y el reglamento de juego de la RFES, en ambas modalidades tanto masculina como femenina. El campeonato tendrá un coeficiente 6 en ambas categorías. . Para la elaboración de los cuadros se seguirá los criterios clasificatorios del Ranking Nacional de la RFES.
 3. Se podrán inscribir todos los jugadores que estén en posesión de la licencia Nacional en vigor del año 2019. Todos los jugadores deben estar amparados por el seguro obligatorio correspondiente (Art.59.2 de la ley del deporte)
 4. El Juez-Arbitro del Campeonato será D. Álvaro Muñoz Herráiz.
 5. Las inscripciones se realizarán exclusivamente a través de rankedin.com. Se debe completar antes del JUEVES  24 de Enero a las 23,59h.
 INSTRUCCIONES:
 1.- Se debe tener la licencia de 2019 en vigor previamente.
 2.- Dar de alta una cuenta en www.rankedin.com. Es muy importante rellenar completamente los campos que solicita incluyendo los dos apellidos en el Campo "Apellido" y la Fecha de Nacimiento (fundamental para los torneos sub y Veteranos). Se debe completar antes del JUEVES 24 de Enero a las 23,59h.
 Una vez creada la cuenta, se debe activar la misma confirmando el mail que se recibirá a continuación.
 Finalmente, se debe añadir el número de licencia en el Campo "SPIN" que se encuentra en "My Ranked\Profile"
3.- Después hay que unirse al evento en el botón verde a la izquierda del evento creado para ello:

https://rankedin.com/es/tournament/359/campeonato-de-espana-absoluto
 A continuación se abrirá una ventana emergente en la que deberás aceptar las condiciones de la RFES.
Luego simplemente hay que confirmar el proceso hasta que te aparezca la confirmación de la inscripción.

6. El precio de la inscripción es de 30€, y se abonará por trasferencia bancaria antes de la publicación de los cuadros definitivos. Todo jugador/a que no tenga la trasferencia formalizada en ese plazo no podrá participar y se le excluirá del Campeonato.

 Cuenta para el pago:
 CUENCA SQUASH CLUB
IBAN      ES87 2048 5117 4834 0000 2888
LIBERBANK
(Obligatorio poner el nombre y apellidos del jugador por el que se hace el pago)
 7. Las inscripciones se actualizan on-line y se pueden consultar en la página del Campeonato. El miércoles día 30 a las 12h se publicarán los cuadros provisionales, para posibles reclamaciones, que podrán llevarse a cabo hasta el domingo, 3 de Febrero, a las 20,00h. El lunes 4 de Febrero, se publicarán los cuadros definitivos con los horarios correspondientes.
 8. La Bola Oficial del Torneo será la Dunlop Revelatión Pro doble punto amarillo.
 9. Los partidos del cuadro principal se jugarán al mejor de 5 juegos. Las previas se jugarán al mejor de 3 ó 5 juegos, a criterio de la organización por el número de inscritos y será anunciado cuando se publiquen los horarios. Se disputarán consolaciones de cuadro principal, consolación de previas y pre-previas, salvo que la organización considere oportuno la no disputa de alguna de ellas.
 10. El jugador que pierda su partido tendrá la obligación de arbitrar el partido siguiente en su pista, excepto los partidos que sean a criterio del Juez Árbitro.
 11. El cuadro principal del torneo, tanto masculino como femenino, dará comienzo el viernes 8 de Febrero a las 19:00h. Los jugadores que deban disputar partidos de previas, deberán estar disponibles a la hora indicada por la organización, dependiendo del número de inscritos, podrá empezarse a jugar el jueves 7. Se aplicara riguroso W.O. una vez transcurridos 15 minutos de la hora fijada para el comienzo del partido.
 12. La entrega de trofeos se realizara una vez terminado el campeonato, los jugadores que tengan que recoger trofeo deberán estar en dicha entrega.
 13. A todos los participantes se les hará entrega de una camiseta conmemorativa del campeonato.
 14. Habrá trofeos para los tres primeros/as del torneo y para los campeones/as y sub-campeones/as de consolación tanto de previas como del cuadro principal. Será obligatorio la disputa de los 3er y 4º puesto del cuadro principal.
 15. Relación de premios en metálico: (Se repartirán 5.000,00€)
 CATEGORÍA FEMENINA                      CATEGORÍA MASCULINA
 1ª …………….  600,00 €                       1º ……………..   600,00 €
2ª …………….  350,00 €                        2º ……………..   350,00 €
3ª …………….  200,00 €                        3er …………….   200,00 €
4ª …………….  150,00 €                        4º ………………   150,00 €
5ª a la 8ª …  100,00 €                       5º al 8º ……..  100,00 €
9ª a la 16ª ..   60,00 €                       9º al 16º ……    60,00 €
                                                         17º al 32º ….    40,00 €
 El campeonato será retrasmitido por streaming anunciándose días antes del comienzo el enlace para poder seguirlo.
Delegación de Castilla-La Mancha
Federación Española de Squash