Bodø, Norway November 03 - 04 2017
Ranking
Norges Squashforbund Ranking

Classes:
Elite
Herre A
Damer

Closing date
31/10/2017 22:35
Start date
03/11/2017 17:00
End date
04/11/2017 20:30
40 players
Bodø Squashklubb
Dreyfushammarn 17, 8012 Bodø, Norway
Entry fee
500 NOK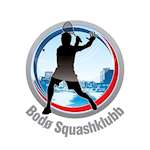 To make Live video from the tournament with score boards to YouTube, you must use "SportCam by Rankedin" app. Install app from the Play Store (Android) or App Store (iOS). "SportCam by Rankedin" app have a two options: Stream Single Match or Court View. Court View streaming will create one broadcast in which the scoreboard will automatically switch between the next matches planned for the given court. 24 hours before the broadcast, you must activate the Live Streaming option in your YouTube account.
How To use SportCam by Rankedin App
How To Activate YouTube Live Streaming
Klasser: Elite, herre A og damer. 
Pengepremier til Elite og damer, utstyr til herre A
Enkel lunsj serveres lørdag, og vi arrangerer bankett på lørdagen. Kan garanterer at det ikke blir tapas og at blir nok mat til alle;)
Tradisjonen tro henter vi alle spillere både fra flyplass og hotell, tur - retur. Ta kontakt med Jesper 932 91 905 for transport, helst på melding, med ankomsttidspunkt mm.

Vi starter fredag kl 18.00. Vi tar da en rask gjennomgang av det nye dommerarket, e-referee. Alle må i forkant ha lastet ned appen rankedin fra enten appstore eller googleplay. Denne appen brukes når vi teller poengene i kampene vi dømmer. Høres litt komplisert ut men det er svært enkelt og en klar forbedring fra dagens måte å gjøre det på. 
Turneringsavgift kan enten betales kontant før første kamp, eller til Bodø Squashklubb konto nr. 4509 11 62532
Gleder oss å se dere :)