Ranking
Slice Padel Madrid
24 teams
Closing date
Start date
06/12/2020 15:30
06/12/2020 15:30
0 clubs
Rio Arena Padel
Madrid , Spain
16 players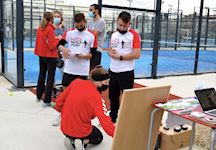 Match Types
| Match type | Matches |
| --- | --- |
| Mixed-Doubles | 1 |
Divisions
| Name | Play dates | Team matches per day | Max points |
| --- | --- | --- | --- |
| Division 1 | Sun | 1 | L1 100 |
| Division 2 | Sun | 1 | L1 100 |
| Division 3 | Sun | 1 | L1 100 |
| Division 4 | Sun | 1 | L1 100 |
| Division 5 | Sun | 1 | L1 100 |
| Division 6 | Sun | 1 | L1 100 |
To make Live video from the tournament with score boards to YouTube, you must use "SportCam by Rankedin" app. Install app from the Play Store (Android) or App Store (iOS). "SportCam by Rankedin" app have a two options: Stream Single Match or Court View. Court View streaming will create one broadcast in which the scoreboard will automatically switch between the next matches planned for the given court. 24 hours before the broadcast, you must activate the Live Streaming option in your YouTube account.
How To use SportCam by Rankedin App
How To Activate YouTube Live Streaming
3 week Winter league, 6 Divisions - 4 Pairs per division.
Sunday 29th Nov - Sunday 13th December.
Weekly 3 set matches.
To win a set you must win by 2 clear games, at 6-6, a 7 point tie break is played.
If the first 2 sets take longer than 1 hour, the third set will be first to 5 games.
1 pair is promoted or relegated from each division at the end of the season.